Christmas Gifts for Him
Did you struggle to find Christmas gifts for him? Finding the perfect present for him is not the easiest task but – lucky you! I am here to help you. I have created a list of the best present ideas for him. For Christmas – but not only. The gifts from my list will make him happy any time of the year.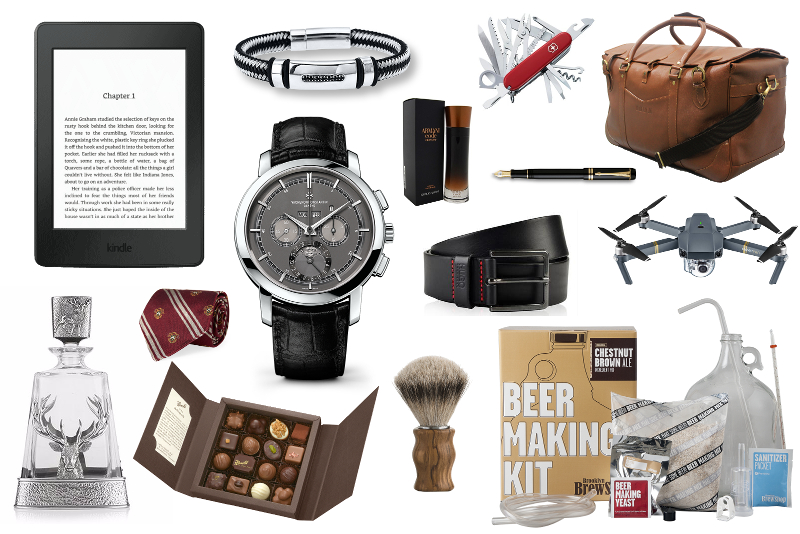 Gifts for him tend to be expensive gadgets that rarely leave the cupboard or another pair of socks. There is nothing wrong with a pair of good socks though!
Good gadgets do not have to cost a fortune. As long as you will find a great deal. Buying it in the right place or at the right time of year. Stay tuned!
Ties, belts and a bottle of good whiskey are totally fine – if your dad, brother, partner or friend loves this kind of present. But maybe you are looking for something different this year? I will try to help you to find the best gift ideas for Christmas 2020. Ties and belts will be there as well!
Best gift ideas for him in 2021
I think that the best gifts for him are the ones which he can use everyday or proudly display. Practical and beautiful presents are the best.
1. More space for photos, videos and fun
Who doesn't need more storage space on your computer? It is a very practical gift for anybody.
Perfect as a Christmas gift for photographers, bloggers, gamers, movie and music lovers, which always need some extra data storage. It is ideal for proud parents and grandparents which happily take pictures of their family. It is also great for teenagers, students and young professionals, which want to keep more pictures of their friends or their travel photos. External data storage is also great for anybody, who wants to make a safe copy of their most important files.
External hard drive
An external hard drive with a big capacity will be a really good gift.
You can choose the desktop version (above). It is the best for people which would use it everyday as a backup and need permanent access to their data.
You can go for the portable version (below). It is best to save data and then disconnect it. It is also lighter and easier to travel with.
There is a wide range of prices for external data storage. Everything depends on the brand, storage capacity, speed, size and more.
Pen drives
Pen drives are a perfect gift for smaller budgets. But hey! I am sure he will really like it! Some people even prefer memory sticks because of their very compact size.
Also, pen drives will usually "forgive" worst treatment as well, they can also be kept in the bags, wallets and pockets.
You can get more unusual memory sticks like the one below in the shape of an electric guitar. Honestly, when it comes to the safety of data, I prefer to stick to the brands which I know best and I can trust their quality. But the one below has good reviews, so maybe it is worth a risk. Isn't it a fun?!
Below are a few more examples of memory sticks – in different sizes, prices and with different styles.
A key chain with a clip could be a great addition to some pen drives, to hang it from a set of keys or belt.
Memory cards
Memory cards are another option – useful for cameras and also additional data storage for computers. They are often sold as a Micro SD card with SD adapter.
2. E-Book reader
Does he enjoy reading? If he doesn't own an e-book reader yet, it will be a great gift for him. For children and grownups.
You can add a protective cover to keep it safe.
An interesting book would be a nice addition. You can choose the Kindle version, which is very often better priced.
But if you are not going to buy him an e-book reader and he doesn't own one, you can be more traditional and buy him a good old paperback.
3. Set of screwdriver & DIY book
Let him do some DIY.
Set of basic tools and a good DIY book would be a perfect gift for him.
4. Remote control car
Remote control cars are probably a secret dream of every boy in any age. Remember that Christmas presents for him do not have to be always very serious!
5. Aromatherapy set
Christmas presents for him are the best, when they are not only practical but also look great and support his good health. An essential oils diffuser, with a set of good quality oils, is not an obvious choice. So it can have an element of surprise.
If you tell him what the health benefits of essential oils are, he will definitely appreciate the gift. Additionally, diffusers may increase the humidity of the air in a room, which is recommended – especially in the winter time, when the heating is on.
6. Cosmetics for him
Stop him from getting secretly your cosmetics – buy him his own.
A cosmetics bag can be a great addition. Call it a travel bag, when he will unpack it.
Above you can see a cosmetics bag from PU Leather and below from real leather. The choice is totally yours, both look great though. You can choose him a Christmas present, which represents your values. But remember that if he only approves of things made from real leather – it is a gift for him, not for you. Do not push him during Christmas time to change his preference.
7. Wrist watch
If he does not collect watches already, probably he will appreciate a nice good quality watch. Price range of wrist watches is mind blowing. But no worries, you can find a good watch for a smaller budget as well. See a few examples below.
If he is sentimental and loves the '90s, this Casio watch is a must-have for him.
Nowadays you can also buy a smartwatch – and be sure that he will love it.
8. Clothes accessories
Good clothes accessories are always a good gift. You can choose between more seasonal ones and serious quality options but still reasonably priced.
Tie, belt and watch were always great accessories for him.
Talking about clothes accessories for him – do not forget about socks and gloves.
We can laugh that some men always get socks for Christmas but who would say "no" to the good quality ones? Or to the warm seasonal slippers?
Also, let's not forget about bags, laptop bags and backpacks, as well as wallets.
9. Survival kit
For the adventurer in him, survival kits are great fun. Even if it never leaves a back garden.
Spending the night in nature – does it sound for you like a really bad idea? Remember that Christmas presents for him are not for you. Let him own his own camping equipment and some end of the world must-haves. He will appreciate your open-mind and that you support his passion.
10. Sport accessories
There are so many sport accessories. From notepads which will let him plan his workout, to a large workout bench which probably will not fit easily under your Christmas tree. Please see below my gift ideas for him.
Did you know that the International Olympic Committee considers chess to be a sport? Mind sport. If he really doesn't like the gym, biking or running, let him exercise his brain. Give him a chess board, Rubik's cub, wooden Sudoku board game or roller coaster model to build.
Or maybe give him a Sudoku puzzle book for long cold winter days.
There are also many other logic puzzle books to choose.
Add a stationary set for him to fully enjoy it.
Or a personalised good quality pen in a leather case. There is a big chance that nobody will accidentally take it from him.
Homemade Christmas presents for him
What else you can give him for Christmas? Here are a few more ideas for homemade Christmas presents for him:
scarf made by you,
homemade chutneys,
painting,
Christmas decoration,
jar with homemade cookies.
I think that the best gifts are these, which cost somebody more effort than money. Homemade gifts are exactly like that.
It is also worth to mention that it is a myth that homemade gifts save money. You still need to buy wool, flour, jar, paint and many more – and you just can't compete in prices with manufacturers. Plus your time, heart, sweat and maybe even tears if something will not go as you planned. But believe me that homemade gift is really the best present you can offer to somebody.
More Christmas gift ideas for him
I hope that you enjoyed the Christmas gift ideas for him which I listed above. But… surprise, surprise! It is not all! Discover even more Christmas presents for him:
Christmas gifts for men – presents for grownups (18+ ideas)
Best gift ideas for fathers – gifts for the best dad in the world